(This post contains affiliate links. If you purchase anything, I receive a referral fee, at no extra cost to you.)
We own a 15-year-old Cocker Spaniel. He's the best dog in the world. Until we adopted him, I wasn't a dog person. That's all changed. I absolutely love dogs.
I used to be a cat person. Now I think cats are okay. I still like to play with kittens. But my concept of the ideal pet has totally shifted.
Unfortunately, our aging pup will not be around with us forever. Right now, we treasure our time with him. Every day is a gift. We do everything in our power to keep him healthy. He's on a grain-free diet. We give him the appropriate homeopathic remedies to support his body. We use pure natural essential oils in his ears, instead of a popular pharmaceutical that contains steroids.
Flea control has always been chemical free. Last summer we applied a little geranium essential oil on his collar. I did this after I noticed two large ticks on his face. These pests didn't bother him for the rest of the summer. Next summer we plan to use the same approach. (He's doing very well right now. So we're planning ahead. However, always check with a vet before using essential oils on a dog. Do not use them on cats.)
Still, despite our best efforts, I know our beloved pet won't be with us forever. That's why, last year, I  decided to get my husband a personalized blanket, with a photo of Buddy. My husband is very attached to our dog. He'll treasure this for many years to come.
Personalized Dog Photo Gifts
The really nice thing about the gifts shown on this page is that they're made by you. All of the ideas below leave room for the imagination. They're created when you order them, as the integrated editor found on the Tiny Prints/Shutterfly site makes it very easy to upload photos and create your own text. You could also use these templates to make a memorial for a deceased pet.
Personalized Dog Photo Frames
This customized dog photo plaque has a stand in back, so it can rest either horizontally or vertically on your desk. You choose the photographs and the text, which are created when you order. You can select black & white, sepia and full color photos. This pet photo easel can also be ordered in three different sizes, a square 5 by 5-inches, rectangular 5 by 7-inches and 8 by 10-inches. There's also an available gift box option. Click to View Price.
&
Custom Made Pet Gifts
This really cute "Bow Wow" notebook can feature an picture of your dog, as well as any short message you choose. This notebook measures 8 by 5-inches and contains 150 pages. It also has a sturdy black-coil binding.
Personalized Dog Christmas Gifts
There are a wide range of personalized dog photo possibilities on Shutterfly, a custom gift site that allows you to make your own unique dog-related presents. The magnets shown here are just one possibility. But there are numerous other options available. Check out the possibilities by clicking on the image below.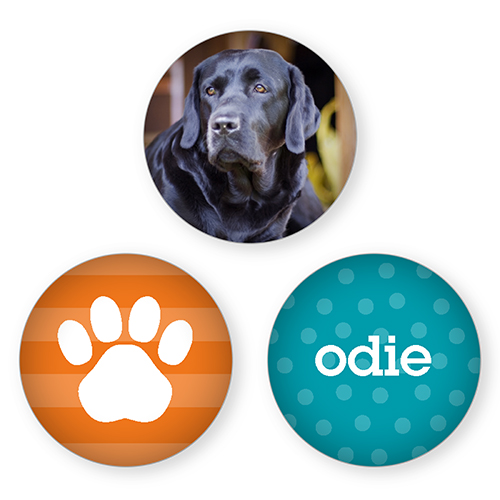 Personalized Dog Refrigerator Magnets
Personalized Photo iPhone Cases for Dog Lovers
Everyone who owns a smartphone needs a case to protect it. This beautiful iPhone case shown below can be fully customized with a picture of your dog or your dog with other family members. You can personalize this with photographs, text or even monograms. You design the layout and the look.
Customized Phone Case For Dog Lovers
Personalized Photo Dog Tag
Maybe you'd like to get something special for your dog this Christmas. You can add your pet's name, as you design the front and the back of this cute fully customized dog tag. Click on the image below for more information.